Raquel Hazell (she/her) is a designer, publisher, and digital archivist from New York City.

Experience

Lead Designer and Associate Editor
AC BOOKS
2018-Present

Oversee the design, production, marketing, and distribution of unique, design-forward publications.

Junior Designer
MIKO MCGINTY
Brooklyn, NY
2013-2018

Assisted lead designers in all duties including implementing comment corrections and layout feedback and preparing files for export to printers for clients such as the MoMA, the Guggenhiem, and the Morgan Museum.

Education

Bachelor of Fine Arts, Fine Arts with Honors — School of Visual Arts, May 2017





In 2020 I launched


Saalt Press
is an independent publishing initiative collaborating with Black // POC artists, writers, and creatives to design and release experimental zines and artist's books. I consider printed matter a radical exercise in archiving, and each publication an artifact adding to the conversation of critical consciousness and challenging our conventions of history, reality, technology and self.

ONE FOOT IN THE OTHER WORLD
"A chatty carousel, covering the last ten years of art in and around Portland, Oregon."
One Foot
was published by
AC Books
, an experiemental art space and non-profit based in New York City. Working closely with author Paul Maziar, I was handed the manscript and hit the ground running designing the entire book from cover to cover. It was important for the both the artist and publisher for the book to visually mirror the energitic writing pulsing through it's pages.

SURVIVING THE 2020s: USER MANUAL
In collaboration with graphic and installation artist B. Rogers, this book is the most recent title released though my publishing house
Saalt Press
. Filled with diagrams and sage advice, this book is a must have in any emergency grab bag. This manual is a guide for civilians and dissidents alike to (hopefully) survive the upcoming decade.

Ask 40 different artists how they spend their week and you get 40 different answers. This redesigned and expanded edition of
7 Days,
published by
AC Books
, offers insight into the personal and professional lives of dozens different artists and creatives as they pull back the curtain to reveal hardships, vulnerabilities, and the often absurdity of life in the arts.
I also publish a monthly newsletter.

This ritual of writing and design is an important space for me to process the previous weeks news, culture, and chaos. A mediation on the macro nestle softly within the micro, I also offer readers a curated collection of articles, videos, memes, and music for their viewing pleasure.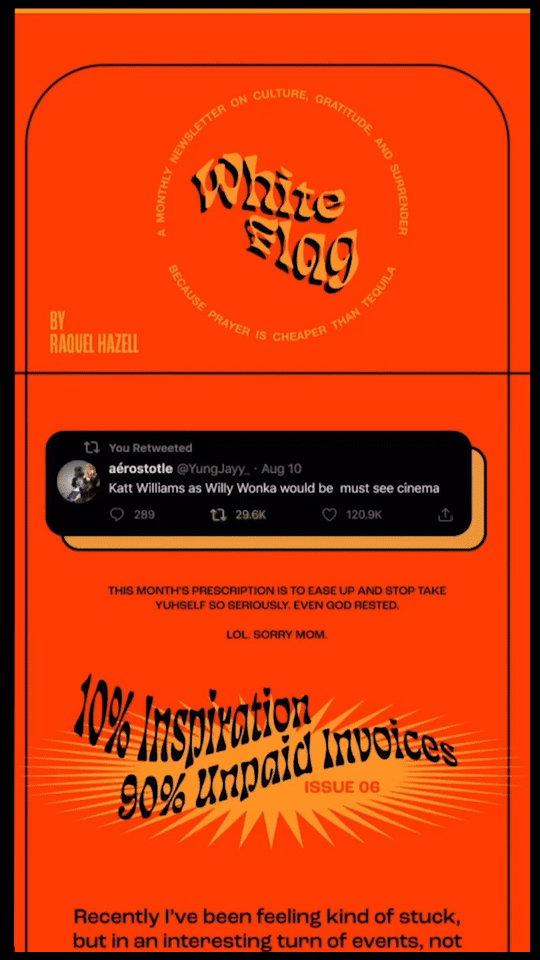 ---